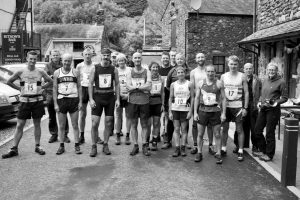 This year's Wasdale Mountain Rescue Lingmell Dash saw a disappointingly small but experienced field of 13 set off down the valley by Jen Fraser, who founded the race in 2002, on her return from New Zealand on holiday.
A round trip of four and a half miles with a 2500 foot climb saw Yorkshire raider and England international Ben Mounsey of Calder Valley lead from the start. Ben was never headed in the lung bursting climb up the nose to the summit before the drop to the finish at the Wasdale Head Inn in a time of 52:10.  A close battle on the decent saw Mike Robinson of Dark Peak taking a direct line to take second in 54:16 with Mario Yomans of local club Cumberland Fell Runners a clear third in 54:19.
For the Ladies, Kirsty Hall of Yorkshire club Wharfdale LV40 (59:04) repeated her 2016 victory finishing in fifth place overall. Gosforth based Cumberland Fell Runner Lindsay Buck LV55 (79:11) showed her strength on the climb and finished ahead of Kim Clark LV60 of Keswick (91:34).
Other local runners who took up the challenge included the CFR Gosforth based pair of Mark Fussell (M – 62:50) and 
Dave Atkinson (MV50 – 68.23) with Chris Cripps of the Rescue Team running for Macclesfield Harriers (M40 – 88:06).
The team prize went to the CFR Team of Mario Yomans, Mark Fussell, Dave Atkinson and Lindsay Buck.
Many thanks to everyone who made the effort to support the Wasdale Mountain Rescue fund raiser especially Burnthwaite Farm, the crew at the Wasdale Head Inn and Tim Brooks at Lingmell House for donating the generous prizes and for all the runners who once again supported the race.