Incident

133 in 2017

Type

Location
We were called by Police about 2 walkers who had become lost whilst descending Scafell Pike. Using Sarloc their position was established as Middleboot Knotts below the Corridor Route in difficult terrain.  After initial attempts to guide them off the hill over the phone failed,  a small team headed up the hill. The walkers were soon found by team members and then walked back to Wasdale Head.
With still 2 months of the year left, we have now dealt with 133 police callouts.  This is equal to our busiest year,  a record we never wish to break. Many of these callouts are avoidable with the appropriate planning and basic hill going equipment. Please if venturing on the hill take a map, compass, whistle and torch along with the knowledge of how to use them.  Good waterproofs and other survival equipment are a must.  Navigation using a smartphone or other GPS device is great, and can provide reassurance if you do get lost, getting you back on track.  But remember batteries run out and phones don't like to get wet, so don't rely on them, having a map and compass is still a big must.
Some areas of the hillside have no mobile signal so if you get stuck you may well be out for the night.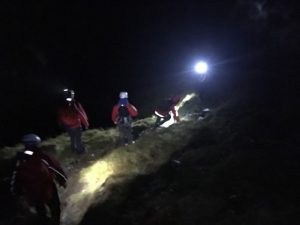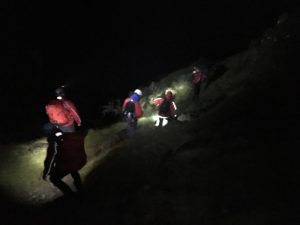 Incident started at 18:06 and ended at 02:00 making 7.9 hrs in total. There were 5 Wasdale team members involved and the incident occured at NY21382 08293 (altitude 577 m). Total rescuer hours: 40